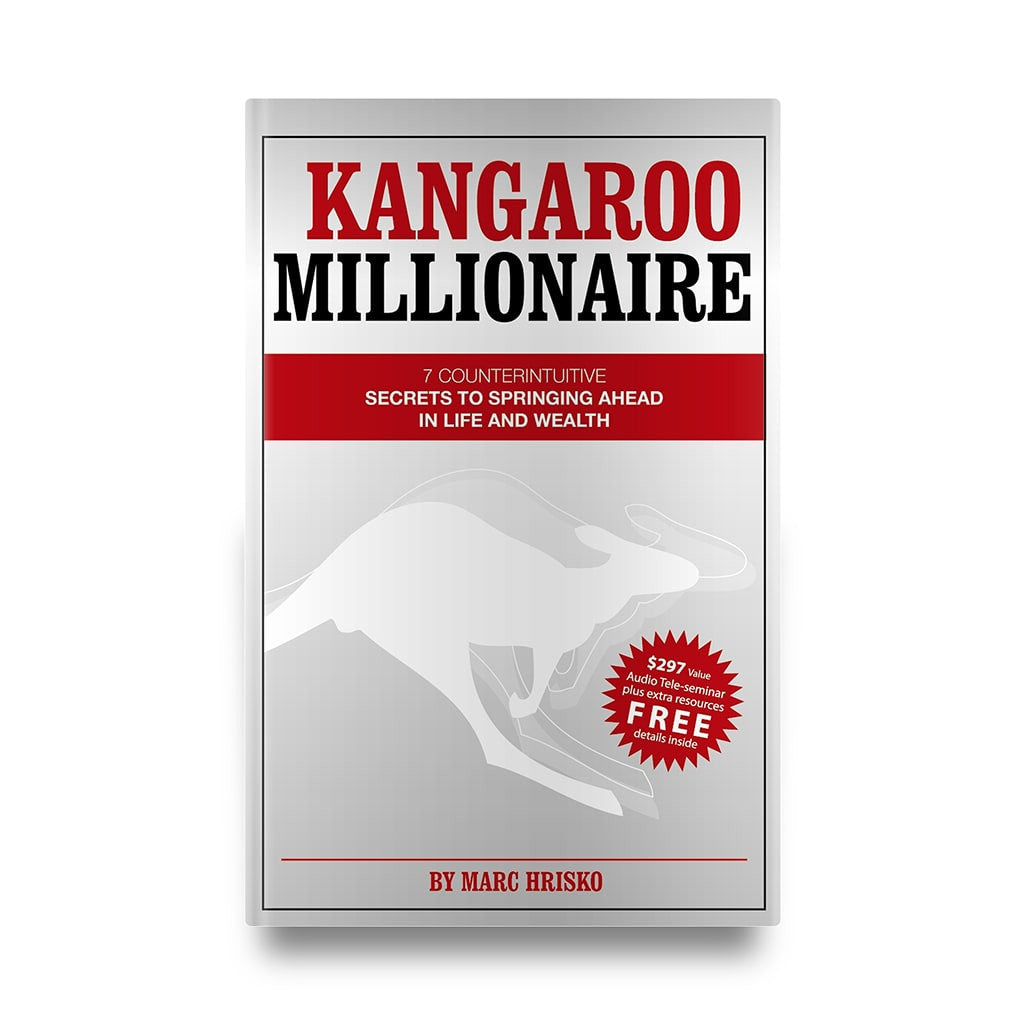 The Kangaroo Millionaire
There are 10 million millionaires on planet Earth, are you one of them?
If not, why not? What secrets do millionaires know that the other 6.7 billion people on the planet don't?
Description

Reviews

Recommended
7 Counterintuitive Secrets to Springing Ahead in Life & Wealth
Marc reveals the counterintuitive secrets and inspirational events that made him a millionaire by age 29. In high school, Marc was diagnosed with dyslexia. Armed with nothing but a high school diploma, he then worked 10 proud years as a firefighter and medic making $40,000. That's when he met his "Kangaroo"—his inspiration for change—a young Australian woman, who challenged him to fly higher and live up to his true potential. He did. And within three years, Hrisko had made his first million—and married his "Kangaroo".
Blunt, funny, and packed with provocative, real, proven tips and strategies, Kangaroo MIllionaire explodes many of the myths surrounding how to get rich and reveals the true secrets of wealth creation. Marc even includes one of his trademark FREE bonuses worth over $297!
If you're ready to spring ahead toward financial freedom and millionaire independence, Kangaroo Millionaire will be your indispensable guide to traveling your road to riches.
Inside Kangaroo Millionaire you will learn:
How to raise up to $50,000 of capital in under 20 minutes
The 3 fatal mistakes most wannabe millionaires make
How to add 2 months of productivity to your year in one simple step
Why going into debt will make you more money than you ever imagined
The single most important attribute of seven-figure income earners
A Top International Real Estate Speaker & Trainer for TV Personalities
Peter Souhleris & Dave Seymour

Flipping Boston

A&E

Robert Kiyosaki

Rich Dad, Poor Dad

Author

Tarek & Christina El Moussa

Flip or Flop

HGTV

Andy & Candis Meredith

Old Home Love

HGTV & DIY

Scott McGillivray & Dean Grazios

Income Properties

HGTV

Doug Hopkins

Property Wars

Discovery